Blue Stiley – Personal Trainer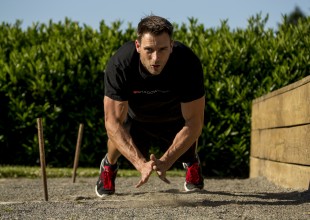 Why I am Shadow Fitness
Shadow Fitness began as a personal training studio and quickly realized that everyone, from our members to our affiliated professionals, that we all face a plethora of reasons we fail to reach our goals (i.e. Weight management, physical impairments, financial stress, etc…) but that we are all given the same 24 hours a day. We believe it is the choices we make and what we do with that time that can set the tone and elevate your life by leaps and bounds to a greater lifestyle and put you in control.
Biography
My appreciation of the body's ability to perform began by participating in school sports such as baseball and football at an early age. I realized that in order for the body to really achieve new heights, I needed to learn how to make my mind and body work together. My introduction to karate, judo, and other martial arts opened my eyes to achieving better mind and body coordination. These arts showed me how to not just go through the physical motions of exercise, but to create synergy of mind and body.
After a terrible knee injury, I was afraid the ensuing months of inactivity would cause me to lose all that I had worked so hard to learn and achieve. Fortunately, I was able to work with physical therapists that not only aided my recovery, but motivated me to never quit. Their encouragement helped direct me to research and study improved physical strengthening, nutrition, human anatomy, and positive thinking.
This injury was the catalyst to dedicating myself to a healthy active lifestyle that I will maintain for the rest of my life. By putting into practice all that I have learned, I realized that I could not only improve my athletic ability and physical appearance, but my everyday life as well.
Whether in college, at work, at the gym, through sports, or living abroad, I have continually come into contact with people who are looking for a way to set and attain physical and mental goals. My ability to share knowledge and experiences with them has aided in their drive towards their own goals. My desire to educate and instruct others to a healthier lifestyle change that is long-term, safe and efficient has inspired me to create Shadow Fitness.
Credentials
Have been actively involved in the fitness industry since 1997 and graduated from the University of Washington with a B.A in International Business and Japanese. I have spent the last 9 years personal training in Seattle where I developed and implemented strength and conditioning programs for hundreds of athletes and individuals through presentations, seminars, workshops and private training sessions.
• Gold's Gym ~ 2002-2004, personal trainer, accumulated over 3000 hours of client training and awarded 2003 Trainer of the Year and 2003 Top Trainer North Seattle Gold's Gym.
• Studio 112 ~ 2004-2005, strength coach
• Seattle Skating Club ~ 2005-2010, strength coach
• Highland Ice Arena ~ 2010- Current, strength coach
• Founded Shadow Fitness ~ 2006- Current `
I have over 30 years experience with martial arts and have instructed Shotokan Karate for over ten years.
• Member of the Seihoku Budokai since 1993
• Member of the JKA "Japan Karate Association" since 2002
• Instructor Seihoku Ryu Budokai since 2000
• Certified Personal Trainer, NASM
• CPR/AED Certified - Current