Lena Kondratets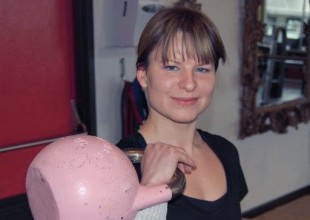 Why I am Shadow Fitness
I am Shadow Fitness because I have a much greater calling to live my life to the fullest and with purpose each given day. I believe that the pillars of Shadow Fitness are not only limited to fitness but life in general. "You know that many runners enter a race, and only one of them wins the prize. So run to win! Athletes work hard to win a crown that cannot last, but we do it for a crown that will last forever. I don't run without a goal. And I don't box by beating my fists in the air. I keep my body under control and make it my slave, so I won't lose out after telling the good news to others." -1 Corinthians 9:24-27 (CEV)
Biography
I was born and raised in Ukraine where my childhood consisted of very little sitting and lots of outdoor activities. In 1997 I moved along with my family to the United States which was exciting and scary at the same time since I had to adapt to a new language, culture, and home. One thing didn't change though; I never was the type that could sit still for very long! I always loved my P.E. classes and wished every school class was like that. I joined my first gym when I was 15 and became somewhat of a gym rat that drew her workout ideas from fitness magazines. I also loved observing the dedicated regulars and the feel of great energy in the gym! By the age of 18 I decided that I wanted to get certified as a trainer just to gain the extra knowledge for myself which in turn led me to working as a trainer. Now looking back at the last 9 years I still feel like I have the best job in the world! In 2013 I also graduated from Cortiva Institute of Massage as a Licensed Massage Practitioner and opened my own practice 3D Body Tuning.
My passion for fitness and people is what lead me to where I am today. I believe that God created our bodies for movement, and when our ability to move is reduced we feel it on many different levels. As a trainer I am passionate about helping people learn how to move properly and improve their overall conditioning though strength training, stretching and cardiovascular exercise. As a massage therapist I love doing treatment work to help reduce/manage pain and excessive tension in muscles from everyday stress and over usage, whether it's from play or work.
I know firsthand what a difference proper training and a purposeful massage can do for the body. My goal is to share that knowledge and help people live a better quality of life by helping them move and feel better.
My goal is to make an impact. I want to make an impact in the lives of people who seek my help as a personal trainer or a massage therapist and beyond. I love to teach my clients and always appreciate their honest feedback since I grow and learn along with each one of them. In my free time I'm involved in my church and my biggest reward is traveling back to the Ukraine during the summer to serve kids and teen orphans. I am looking forward to seeing what this year holds in store and feel very blessed to be where I am today.
"Our greatest glory consists not in never falling, but in rising every time we fall." - Ralph Waldo Emerson.
Credentials
I feel very blessed to be able to serve people with my knowledge and skills in fitness and to be able to help others accomplish their fitness goals. I have been a certified personal trainer since 2005 and what excites me is that even after years of learning and growing as a professional there is still so much more to learn and share with others. My strongest side as a trainer is corrective training and helping my clients regain better posture and mobility along with performance. My passion for fitness has also led me towards becoming a licensed massage practitioner and the intent of my work is primarily treatment work.
• NASM Certified Personal Trainer
• NASM Corrective Exercise Specialist
• NASM Performance Enhancement Specialist
• WA State Licensed Massage Practitioner #MA60443426
• First Aid CPR/AED Certified
• Shadow Fitness Affiliate and Member- Current