BeatsPerMinute Fitness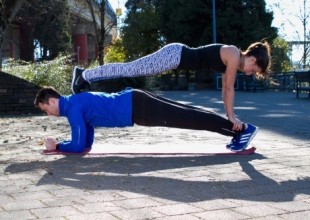 Why I am Shadow Fitness
At BeatsPerMinute Fitness, Courtney Peebles and Ryan Self are constantly striving to help people attain their goals through fitness and nutrition. We found that Shadow Fitness recognizes only competent fitness professionals/affiliates and offers a unique way to add value to our business model. There are a few different search aggregate options for fitness professionals out there but they seem either to be too big to have a "community feel" or they lack professionals that don't seem to have any differing qualities. Shadow Fitness on the other hand not only creates a "community" with like minded fitness professionals but brings a wide variety of accredited businesses and individuals together. Thus making the site unique as well as aligning to our own core values at BeatsPerMinute Fitness. We strive to be better and different every day. We ask ourselves how can we do what has not been done, and how can we make fitness better than it was yesterday, both for our clients as well as for the industry as a whole. This is truly our purpose and strive to make an enormous impact!
Follow Ryan and Courtney at:
BeatsPerMinuteFitness.com
Instagram:
@BeatsPerMinute_Fitness
Twitter:
@BPM_Fitness_
Pinterest:
BeatsPerMinute Fitness, @bpm_fitness
Biography
At BeatsPerMinute Fitness there is a passion and a reason to want to help people. So how does one do that? Understanding that we are all at different stages of our long, windy, and bumpy fitness journey is a big part of it. The right exercise regimen paired with a customized approach is exactly the ticket. Being realistic about how hard we are working is simply put, a conversation we need to be having. We need to realize there is a big difference between "perceived" intensity and "actual" intensity. Adjust the level of conditioning and two people from very different health backgrounds can both get a phenomenal workout doing similar types of exercises. It can be that simple. This is where BeatsPerMinute Fitness comes in and makes the difference! Between our remote exercise and nutrition programs, we have it all figured out just for you! Check out our most successful program yet here --->: http://www.beatsperminutefitness.com/21day/
Our Philosophy at BeatsPerMinute Fitness
INTENTION: BeatsPerMinute Fitness believes that you can truly change the way you look and feel with an intentional and consistent plan.
EXERCISE: Our bodies are not meant to be sedentary or sluggish. We are meant to have lean, powerful, active frames and exercise is the most important contributor to achieve this reality.
NUTRITION: With the proper fuel you will transform the way you look and feel faster than you ever thought possible.
CARE: Many other fitness concepts are about selling a gimmick or pill and promising change. We care about YOU more than being out to make a quick dollar. Our methods are systematic and proven to deliver results! But it won't happen over night and there will never be a magic wand waived at any stage in the process.
BALANCE: We also know that you have a life to live. That's why our methods will be the most succinct, the least time consuming, and require the absolute minimum amount of equipment necessary. All our programs offer the flexibility of location to best fit your ever changing lifestyle.
ANIMALS: We believe in and love our furry friends. That's why we partner with the Humane Society in making a donation for each service or program we sell. We also personally donate our time weekly to support their admirable cause.
& OUR MISSION: To provide the most comprehensive and convenient mobile fitness solutions available.
Credentials
• Certified Personal Trainer - National Strength and Conditioning Association- 9 years
• Certified Nutritionist - National Academy of Sports Medicine- 4 years
• CPR and AED certified
• Certified Expert: Weight Loss Nutrition (NSCA-National Strength and Conditioning Association), General Fitness Nutrition (NSCA), Sports Performance Nutrition (NSCA)
• Owner and Operator of BeatsPerMinute Fitness, LLC
• Founder of BeatsPerMinuteFitness.com | Mobile Fitness Solutions: Anytime | Anyplace | From Any Device
• Creator of: The 21 Day Quick Trim Resolution, The 21 Day Quick Trim Diet eBook,
& The 45 Day Quick Trim Resolution
• Shadow Fitness Affiliate and Member ~ 2015